Helping buyers buy
Blog,
Tuesday 8 January 2019
Infor­ma­tion adapt­ed from Gart­ner – win more B2B salesInfor­matie geadapteerd uit Gart­ner – win more B2B sales
Online B2B versus B2C: the differences
Online Sales in the B2C market is more efficient than ever. Companies are able to respond to consumers' individual requirements without the need to make significant investments in them. The online B2B market, however, is a different story. There are various reasons for this: a single individual isn't responsible for the decision-making process, and choices of channel and online traceability are limited.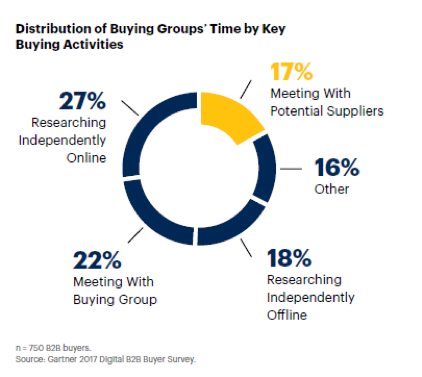 Research conducted by Gartner proves that 17% of the time in the purchasing process is spent on direct contact with potential sellers/suppliers. This applies to all potential suppliers – a single supplier will only require a fraction of this time. What's even more important is that 27% of the time is spent on individual online research, which means there is plenty of scope to support the buyer as effectively as possible in gathering information during that period.
The purchasing process: stuck in a rut
Gartner breaks up the purchasing process into six steps: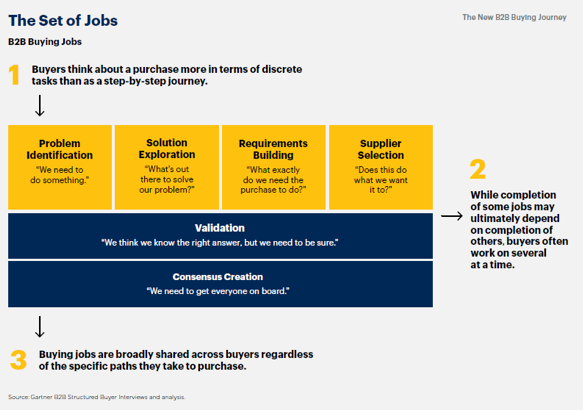 Within each of these steps, there are feedback loops, several people involved, unexpected obstacles and many more other hurdles along the way that delay the process.
The solution: Information
To support buyers as far as possible in making the correct choice in the near future, the supplying of information is key to success.
This information must possess the following four aspects:
Shareability: it must be easy for the organisation to distribute the information online and offline.
Channel-neutral: the information must be shareable and readable via all channels.
Consistent: the information must be the same, at all times, and to scale.
Focused: the information must be tailored to the buyer's requirements and his/her role in the purchasing process.
How? Buyer Activation
To achieve this, information must be split up along these six steps in the purchasing process. The aim isn't to become an information authority, but to support the buyer in finding the correct information. The role of the seller is therefore one of an information trader. The result? Gartner has proven that supplying useful information along the aforementioned six steps increases ease of sale by 30%. Conclusion: help your customers to make purchases by supplying them with information where, when, how and in whatever form they want it.
Mas van Hemert