Social Selling
Blog,
Friday 29 November 2019
In a recent arti­cle by McK­in­sey and Sales­force about the top 7 trends with­in sales social sell­ing was num­ber 5. A sub­ject of debate in numer­ous cir­cles: from the rela­tion to GDPR and AVG to the actu­al util­i­ty of social sig­nals. Social sell­ing is hot — but what does it actu­al­ly entail?
What is social selling?
The art of social selling has a clear goal: you or your company has to be the first thing a prospect thinks of when he/she is ready to buy. This may be accomplished by finding, connecting and understanding the prospects. By means of analysing interviews, social media activity and discussion forums one tries to obtain a complete picture of the wishes and needs of a prospect. Subsequently, visibility may be created by interaction with the right person at the right time for products and services provided. That is how social selling differs from advertising: the interaction is not clouded by adverts, unwanted messages or e-mails. Interaction is initiated on the basis of buying signals and natural interaction.
What are the advantages of social selling?
Various sources claim that 78% of sales people using social selling outrun their colleagues. These results are stimulated by the deeper and warm information with which a sales person enters into a conversation. Knowing what is going on at the prospect ánd his/her company guarantees rapport, recognition and ultimately a better meeting. Furthermore, the advantages can be seen in a shorter sales cycle, more leads, higher conversion and more (see below).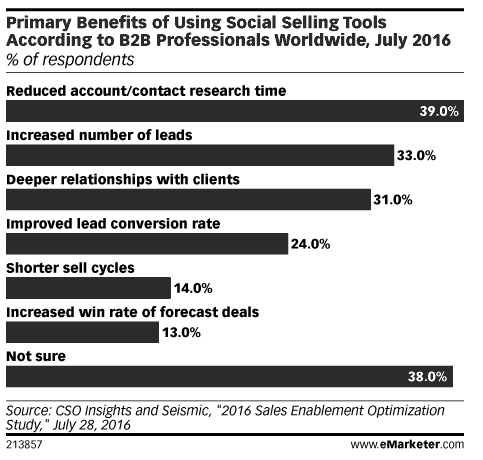 How do I apply social selling?
The only way to do social selling right is by taking matters into your own hands. Automation is and seems insincere for the prospect. Building an extensive social network contributes to the success of social selling. Frequent posts, interactions and articles contribute to the reliability, visibility and authority of a sales person. This will make prospects more inclined to enter into a conversation.
A way to scan outside your own social network for meetings about your products and services is by listening well. By scanning for conversations, news articles and forumposts with specific topics one creates three sources of information. First of all, one finds information about who are involved. Secondly, one finds what has been said. And finally, one finds a sentiment with regard to the topic. By linking this information an unambiguous route may be designed to approach the prospect(s) with something that has their direct attention.