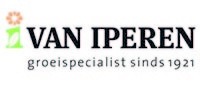 "Prospec­to­ry are like us: prag­mat­ic, down-to-earth and pas­sion­ate about their field!"

— Renate Houweling – Head of HR
For gen­er­a­tions, the Dutch fam­i­ly firm Van Iperen has been help­ing its cus­tomers to grow healthy and prof­itable crops – in a way that is good for peo­ple, ani­mals and plants. The love of all that grows and flow­ers is deeply root­ed with­in our employ­ees. We describe our­selves as ​'Growth spe­cial­ists since 1921', and with good rea­son. We pro­vide sus­tain­able and inno­v­a­tive solu­tions in order to build a future-proof sector.
At Van Iperen, we wanted to raise the level of our presentations to our customers – to communicate a technical message to the public in an appealing and enjoyable manner!
"Due to the positive experiences of our sister company Transterminal Dordrecht with Prospectory, the firm's pragmatic and flexible approach and the rapport with the trainer, we decided to design a training module for presentation techniques in partnership with them. On the one hand, the module was aimed at communicating specialist knowledge in a professional and interactive way; on the other, it was about strengthening customer loyalty. Through the combination of group-based training and individual coaching, we have been able to deliver a tailored solution", says Renate Houweling.
Renate Houweling believes that Prospectory's custom approach and the way in which it incorporates day-to-day practice into the training are very valuable. "The trainer had really immersed himself in the subject matter and got to know the people, and he attended a number of customer evenings by way of preparation. A sign of genuine interest. The trainer established a bond with the course participants and gave his feedback in an accessible, thoughtful but also direct manner. That generates trust and hence also the openness to genuinely learn from one another!"
The results were excellent! During the training, the participants themselves improved the content and form of the presentations. With the feedback, tips and after-care, the stories have been made even more enjoyable for the public to listen to. The course participants found the feedback very valuable and we have already scheduled a follow-up session and a new training module.