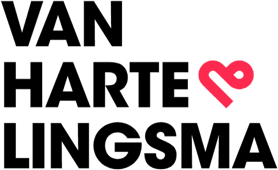 "Prospec­to­ry taught us to see things differently!"

— Sales & Marketing Team
Train­ing agency Van Harte & Lings­ma is an ambi­tious, pro­fes­sion­al organ­i­sa­tion with an excel­lent rep­u­ta­tion in the train­ing sec­tor. Their guid­ing prin­ci­ple is great pas­sion for the train­ing pro­fes­sion and a belief in human poten­tial. Par­tic­i­pants are not only taught knowl­edge and skills, but also receive help with enhanc­ing their own abil­i­ties and values.
"As an independent commercial team, we are continuously working on putting development in motion, both for our customers and our own organization. It is a challenge to help people, teams, and organisations with development in such a way that also helps us to develop as a training agency. If we achieve that, we fulfil our mission in two ways!"
Prospectory was deployed as an external advisor on an interim basis for the improvement of the commercial processes. A broad process during which a Sales & Marketing plan was created and the Sales Action Plan was carried out, think of things like target setting, lead qualification, etc.
"What really stood out was their expertise. Prospectory was able to understand the business, had a great eye for the context within which we work, and was able to translate this into the overlying principles and concrete steps to improve the process."
The way in which the team works as a commercial team is the result of this. Not only the knowledge, but the attitude and the way of working together has greatly improved. Thanks to Prospectory's efforts, the team is better prepared for the future!